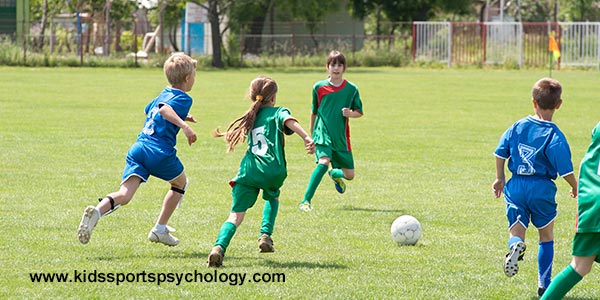 How to Move on After Mistakes
Many sports kids feel that achieving peak performance means that they must have a perfect performance or game.
However, this mindset can hurt kids' mental game and performance. These kids tend to have a hard time moving on after making mistakes, so they get stuck in the past. At the same time, they're trying to perform in the moment, taking a game one shot or block at a time.
When sports kids feel like they have to be perfect, they feel sorry for themselves or criticize themselves after a bad performance.
Here are some examples from several sports:
* A gymnast falls off the balance beam in a major competition and, immediately tells herself, "I always mess up."
* A baseball player strikes out with the bases loaded in the late innings of a game and tells himself, "I can't do anything right!"
* A basketball player misses several free throws and tells herself, "I am the reason our team lost the game!"
* A soccer player has a bad playoff game and thinks, "I always choke under pressure."
It's critical for young athletes to learn how to rebound from mistakes and mishaps.
Help kids understand that nothing is ever perfect. They need to understand that how they respond to mistakes and losses can hurt their next few games or competitions. It can affect their whole season.
Let's use a basketball metaphor.
It's unreasonable for basketball players to expect to make every shot. That's why "rebounding" is so important.
Coaches will often tell their players to follow their shots in order to rebound and get the ball in the hoop.
If players always hang their heads after missed shots they would miss the opportunity to rebound and be successful.
An important step in rebounding is for kids to stop criticizing themselves. They also need to avoid feeling sorry for themselves.
This is true for all athletes, even professional athletes.
For example, Luton Town Football Club of the Championship League lost four consecutive soccer matches. After the last loss to Reading FC, Luton manager Graeme Jones talked about how the team members gave up a bit and felt sorry for themselves.
"We started the game really well and then they scored. Then mentally, we felt sorry for ourselves, 'What we're going to do?' and not enough attacking threat," Jones said.
He added that he would like to bring in a mental training professional to help his team overcome this obstacle.
"We're at a point now where maybe we might have to think about going down that [mental training] route, because even if you look at last weeks' goals, Nottingham Forest didn't create their two goals, we gave them them," he said. "Today, we gave them three goals, so it's an area that I've looked at deeply, it's an area that I understand, it's a reality for the mental step in the Championship [League]."
Sports kids can learn how to rebound from mistakes; it's an acquired skill that allows kids to feel less helpless.
Mental game training can help kids move on after mistakes and keep their heads in the game.
How to Move on After Mistakes
To rebound from mistakes, kids need to learn how to respond to mistakes in a new way. They need to begin by asking themselves, "Can I really be perfect? Do others expect me to be perfect?" The answer, of course, is no!
They should also ask themselves what was so horrible about the mistake they made. It was likely a mistake that athletes of all ages make all the time.
Finally, they need to remind themselves that they can't change the past. But they can move forward. The Positive Coaching Alliance suggests that parents give kids a "flushing" sign after they make mistakes to encourage them to let go of the mistake and move on.
Remind your sports kids: They can't change the past. They need to move on and focus on the next play, skill, pitch or shot.