Kids and teens say they lack connections with adults in their schools, says Paul Caccamo, CEO and founder, Up2Us, a coach training program. Youth coaches can fill in the gap and build resilience, improved focus and self-esteem in young athletes, he says. To meet that goal, Up2Us partners with schools and community groups, and works on the ground to entice kids to join teams, then teaches kids skills they can transfer to all areas of their lives.
Listen to Learn More:
---
Video Mental Coaching from Anywhere in the World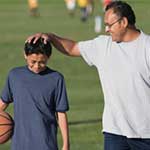 One-on-one mental performance coaching is the fastest and most effective method to improve your athletes' mental game, boost their performance, and make lasting changes. And as a bonus, parents learn what to say to help young athletes feel confident and thrive in sports. Please call us at 888-742-7225 with your questions.
Contact Peak Performance Sports Today
Please contact us today to learn more about individual mental coaching programs for serious young athletes on a mission to greatness. Contact us at Peak Performance Sports or call us toll-free: 888-742-7225 for details.