The mental game is critical to sports–and improving mental health can boost both kids' mental game and performance.
That's the word from Laura Erickson-Schroth, chief medical officer at The Jed Foundation, which works in schools and sports organizations to help kids improve their mental health.
---
Video Mental Coaching from Anywhere in the World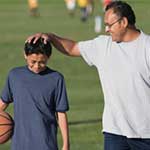 One-on-one mental performance coaching is the fastest and most effective method to improve your athletes' mental game, boost their performance, and make lasting changes. And as a bonus, parents learn what to say to help young athletes feel confident and thrive in sports. Please call us at 888-742-7225 with your questions.
Contact Peak Performance Sports Today
Please contact us today to learn more about individual mental coaching programs for serious young athletes on a mission to greatness. Contact us at Peak Performance Sports or call us toll-free: 888-742-7225 for details.