In this sports psychology video, you learn athletes quit sports and the right and wrong reasons to quit…
Here's the question of the week:
"I'm playing soccer and I'm thinking about quitting because I am literally the worst one on the team. I tried to tell my parents that I don't want to play soccer anymore, but they just kept me in. I think it's stupid to keep playing for their enjoyment. What should I do?"
Watch the video now to learn what you should do when you or your athletes feel like quitting your sport…
---
What do parents and coaches say about our resources?
"I think the material on your web site and the communications I receive are excellent. I find the advice practical and the topics that are discussed, very relevant to my own experiences. Your materials are top class. I will continue to study them."*
~David Wormald, sports parent
Help your young athletes have fun and stay in sports!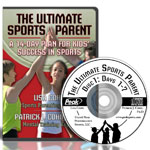 You can benefit from our 15-plus years' of work in sports psychology and sports parenting research. Now, you can tap into our secrets to sports success through a cutting-edge, 14-day program that helps young athletes overcome the top "mental game" challenges that sports parents face—and the top challenges young athletes face. In our 14-day program, you and your young athlete will learn just what it takes to cultivate confidence, focus, and composure in sports!
Through our extensive research, we've discovered that the parents of top-performing, happy, young athletes know how to support their kids in sports. These parents understand just how to:
Communicate with coaches
Boost their kids' confidence on game day
Help kids stop worrying about what others' think
Teach kids no one is perfect
Give kids appropriate feedback after defeat
Free kids to trust in their own abilities, and
Help kids focus on what's most important….And more!