Letting Kids Decide What Sports They Want to Play
What are the Habits of Supportive Sports Parents?
To be a supportive sports parent, you first have to ensure your kids are having fun.
Second, you should help ensure they are prepared for practices and games, says Sharkie Zartman, a college professor, UCLA and USA national team volleyball athlete, author, coach and radio host. She recently spoke to us for an Ultimate Sports Parent podcast interview.
"Make sure the kids are fed properly before competitions and practices, listen to the kids and have open communication. Also parents can teach kids how to talk to coaches when they have a question or something is wrong," she says.
Often kids want to talk about the fact that they're not getting enough playing time, she says.
Young athletes might begin by saying to the coach, 'I notice I'm not getting as much playing time as other kids. I really want to be my best. What can I do to get my skills up,'" she suggests. It's also important for kids to tell the coach they want to support the team.
Once a coach tells young athletes how to improve, parents should support the kids, along with the coach. That means working with coaches–not disagreeing with them, she says.
"In order for a child to be successful, both the parents and coaches have to support the child," says Zartman.
In addition to ensuring kids are having fun and know how to communicate with the coach, parents should ensure young athletes are learning basic skills so they can improve.
"Make sure they have basic fundamentals. Often kids go on to competitive levels without the basic skills," says Zartman.
And rather than focusing on winning, parents need to concentrate on ensuring kids give their best effort.
Additional tips for sports parents from Zartman:
–Make sure the child wants to play the sport. Don't put the kid out there because you want him or her to play. It should be the kid's decision.
–Don't obsess about what happened during a game. Don't analyze everything. Kids don't want to hear that. "Let it go and wait for the kid to talk to you," she says.
–Make sure your kids have other things in their lives that they enjoy. This is especially important if you are coaching a team with your own kids on it. "Leave the game on the field and come home and be a parent. We need to separate ourselves from the sport, stop talking about it and let kids be kids," Zartman says.
Listen to the Full Podcast:
---
Related Articles
*Subscribe The Ultimate Sports Parents on iTunes
*Subscribe to The Ultimate Sports Parents on Spotify
Help your young athletes have fun and stay in sports!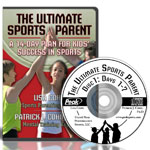 You can benefit from our 15-plus years' of work in sports psychology and sports parenting research. Now, you can tap into our secrets to sports success through a cutting-edge, 14-day program that helps young athletes overcome the top "mental game" challenges that sports parents face—and the top challenges young athletes face. In our 14-day program, you and your young athlete will learn just what it takes to cultivate confidence, focus, and composure in sports!
Through our extensive research, we've discovered that the parents of top-performing, happy, young athletes know how to support their kids in sports. These parents understand just how to:
Communicate with coaches
Boost their kids' confidence on game day
Help kids stop worrying about what others' think
Teach kids no one is perfect
Give kids appropriate feedback after defeat
Free kids to trust in their own abilities, and
Help kids focus on what's most important….
And more!