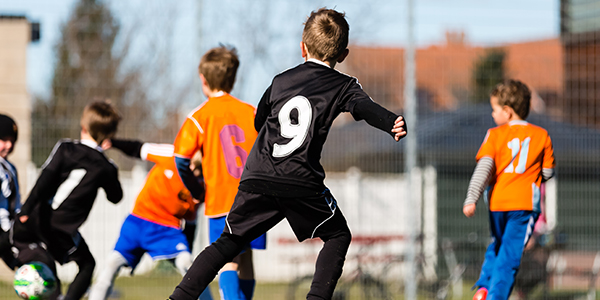 Help Your Athletes Close out Competitions
Are your sports kids confident in their ability to close out games? Or do they get scared and play sloppily when their team is ahead?
Teach An Aggressive Mindset
Whether your kids play soccer, football, hockey or participate in gymnastics, they need to have an aggressive mindset to close out a competition.
Many athletes become nervous and afraid they'll melt down even though they have a big lead. These fears of losing and embarrassment can be overwhelming.
For example, a tennis player is up by three games in the final set. She has been aggressive the first two sets, hitting a good number of aces. With a big lead in the last set, she serves cautiously, fearful of double faulting.
Her soft serves allows her opponent to return powerful shots down the line. She ends up allowing her opponent to catch up and take the lead.
Another example: A hockey team has a two-goal lead with five minutes left in the game. Instead of playing aggressively and closing out the game, the team plays defensively.
The defensive style and a few sloppy passes cause the team to give up two easy goals and tie at the end of regulation.
Sloppy play is the result of cautious play. When young athletes play not
to lose, they make mistakes and give their opponents the opportunity to get back in the game.
This is also true of professional athletes.
The Philadelphia Sixers played a game against the Houston Rockets, taking a 96-79 lead into the fourth quarter. Little by little, the Sixers allowed the Rockets to close the gap and the Sixers squeaked by with only a 5-point victory.
Sixers center Joel Embiid addressed the team's sloppy play heading down the stretch.
"[The Rockets] started making some shots. We had a couple of turnovers, especially me. We had a stretch where at least six possessions in a row we lost possession and they came back down on the other end and started making shots. We have to learn to close games when needed. We relaxed. There's a lot to learn, but we got the win," he said.
To close out the competition, kids need to:
Understand the difference between aggressive and risky play. When they have the lead, they should focus on stretching the lead, not protecting it. They should play aggressively, without taking excessive risks that could lead to sloppy play.
Focus on their game. They may be tempted to focus on their opponent who is making a comeback. They should instead stay focused on their plan and strategy to finish strong.
Pay attention to the process and not the score. When kids focus on the score, they're focused on the potential outcome of the game. They play not to lose–instead of focusing on the opportunities to maintain or extend the lead.
To boost their ability to finish well, sports kids should practice closing out games. They should create mental scenarios in practice in which they have a lead heading down the stretch.
For example, tennis players should create a mental scenario of being up three sets late in a match. Even when they see opponents making a push to climb back in the match, they should stay focused on each point.
In order to maintain a lead and finish out a game with a win, young athletes should keep the "pedal to the medal."
They should challenge themselves to get another goal in hockey, have a strong last rotation in gymnastics, or continue to shoot when they are open in basketball.
Related Article: